Beauty tips by the face of a new luxury fragrance
In December 2012, French luxury label Chloé presented the new fragrance for the more affordable and younger line 'See By Chloé' (fragrance release in January 2013).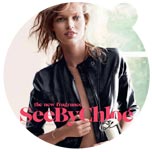 fig. original: The 'See By Chloé' campaign images by photographer Fabien Baron show the current face of the line, Dutch model Bette Franke in sporty black leather blouson in a scene that reminds 'fresh in the morning'.
Bette Franke contributes some personal tips such as cleaning the face before going to bed, taking a shower in the morning and putting afterwards a moisturizer on the whole body and a good one on the face. When she is not standing (styled up by 2 or 3 beauty experts) in the studio in front of the camera of a famous fashion photographer like Fabien Baron, Bette Franke wears rarely a lot of make-up and likes mascara and lipstick.
Bette says that she eats whatever she wants and continues "I have a fast metabolism." (Probably the model supports the metabolism by drinking a lot of water and her favorite sport activities cycling and skiing.) Her favorite little excess is food like peanut butter or chips.
Q: What do you like about the fragrance?
Bette Franke about the floral-fruity scent with apple accord and notes of jasmine and vanilla: "The fragrance is very 'gourmand'. I like it because it's not too intense, it's light and the smell is great."
Q: What's currently playing on your iPod?
Bette Franke: "I have a lot on there: Bruce Springsteen, Paul Simon, Mumford and Sons, some jazz. It really depends on the mood I'm in."
Video: Fashion show See By Chloé Spring/Summer 2013. Production: Obo; Composer: Saad Tabainet; Music Director: Charles Schillings; Video producer: Videopolis. For the new fragrance 'See By Chloé, perfumer Michel Almairac was inspired by the fashion and the brand image of Chloé's young line.
Source: Original article with image and video on http://beautyme.com/fragrance/2012/chloe12-2012.htm.

more fashion.at/mobile>

News from
November 2012
October 2012
September 2012
August 2012
July 2012
June 2012
May 2012
April 2012
March 2012
February 2012
January 2012

subscribe
terms
imprint
(C) Sawetz, since 1996