Results of women's cultural initiatives concerning tenun textiles
...seen on 22 May 2012 at the Cita Tenun Indonesia (CTI) fashion show 'Heirloom' at the Hotel Harris in Jakarta (Indonesia) during the annual Fashion & Food Festival (runs from 12 to 27 May 2012, this year under the motto 'Innofashion').
Cita Tenun Indonesia is an association of women who are focusing their cultural work on the tradition of weaving and the use of tenun textiles. Cita Tenun Indonesia programs span from the preservation, exhibition of tenun textiles and Indonesian culture, over book publishing and research to trainings of weavers.
The textile initiative Cita Tenun Indonesia references with the fashion show 'Heirloom' the cultural heritage of Indonesia. On the catwalk, CTI featured the latest collections by the designers Didi Budiardjo, Ari Seputra, and Priyo Oktaviano. Etcfashionblog.com knows details about the designers' collections.

fig. original: Fashion pieces from the latest collections by Didi Budiardjo (left), Ari Seputra (middle), Priyo Oktaviano at the Cita Tenun Indonesia fashion show during Jakarta Fashion & Food Festival on 22 May 2012. View the video from the show on YouTube.
fig. original: The Indonesian designer Didi Budiardjo presented elegant dresses in silky satin.
fig. original: Ari Seputra's mix of patterns - from geometrical to flower prints.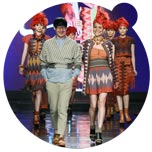 fig. original: Priyo Oktaviano's earthy colored designs with zig-zag pattern in comfortable elegant style.
Source: Original article with images on http://www.fashionoffice.org/collections/2012/citatenun5-2012.htm.

more fashion.at/mobile>

News from
May 2012
April 2012
March 2012
February 2012
January 2012

subscribe
terms
imprint
(C) Sawetz, since 1996