Fashion and beverage under the motto 'Follow Your Heart'
In December 2012, Coca-Cola light announces for 2013 the collaborative 'Follow Your Heart' charity campaign together with Austrian fashion designer Lena Hoschek. The 'Follow Your Heart' Coca-Cola light cans (release in May 2013) and the limited edition of Lena Hoschek dresses (sweepstake starts in February 2013) will support the medical initiative 'Zonta - Golden Heart' and the project 'FrauenHerz' in their fight for more awareness of women's disorders with the aim to reduce cardiovascular diseases. Additionally, Coca Cola announces a fashion surprise by Lena Hoschek with charity purpose for Vienna Fashion Night on 13 June 2013.
'Women's hearts beat differently' is one of the messages of the campaign. Prof.-Dr. Strametz-Juranek, cardiologist and founder of 'Zonta - Golden Heart' references the history of medicine which focused on men's health and ignored women. One of the results is low awareness of women's heart diseases - this reaches from the fact that it is one of the top causes of death (in Austria) to the simple strategies of prevention. (Coca-Cola light publishes on cokelight.at a folder with some easy tips for a healthier lifestyle.)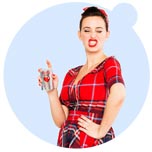 fig. original: Fashion designer Lena Hoschek holds a Coca-Cola light can from the 'Follow Your Heart' edition in her hand. The can is decorated with a red heart. The collaborative Lena Hoschek Coca-Cola light can comes in May 2013 into stores in Austria.
fig. original: Lena Hoschek designed three dresses for the 'Follow Your Heart' charity campaign by Coca-Cola light. Left, the red-white striped summer 'Candy Dress' with wide skirt and shoulder-free top. In the middle, the ruby-red 'Rendez-vous Dress' with tulip draped skirt and wrapped top with short sleeves. The right image shows the signal red 'Sweetheart Dress' with bow in the middle of the top, short sleeves and wide skirt. The dresses will be produced in the limited edition of 30 pieces for the Coca-Cola light sweepstake which starts on 1 February 2013 on 1,5 liter and 2 liter multipacks of Coca-Cola light bottles.
Source: Original article with images on http://www.fashionoffice.org/cuisine/2012/cocacola12-2012.htm.

more fashion.at/mobile>

News from
December 2012
November 2012
October 2012
September 2012
August 2012
July 2012
June 2012
May 2012
April 2012
March 2012
February 2012
January 2012

subscribe
terms
imprint
(C) Sawetz, since 1996