Dita Von Teese as Mary Poppins ballerina
...seen in late October 2012 at the 'My Cointreau Evening by Dita Von Teese' photo series shot by Ali Mahdavi. The story of the campaign centers around a feminine handbag in vintage style which is equipped with a cocktail minibar after tips by Dita Von Teese.
Additionally, Cointreau Ambassadress Dita Von Teese provides hints for drinking manners. Her tip for the best time to enjoy a cocktail: "When you enjoy a cocktail isn't really important; what matters is who you are with at the time."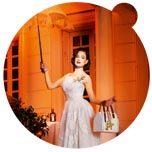 fig. original: Dita Von Teese hovering in Mary Poppins style in front of a house. She wears a sleeveless white lace cocktail dress and light-amber colored ballerinas decorated with crystals. In one hand she holds a romantic early 20th century umbrella, in the other the white Cointreau vintage handbag with orange fruit print and two amber colored leather straps. Photographer of the image is Ali Mahdavi.
fig. original: The interior of the 'My Cointreau Evening Bag' consists of a Cointreau bottle, bar tools and ingredients for interpretations of classical cocktails or extraordinary Cointreau & tea mixtures; three glasses of spices (ginger, sweet pepper, cinnamon) and a powder box filled with tea. The book 'Cointreauversial' provides recipes such as for 'Cointreau Fizz Classic' with lime, soda water and "a pinch of cinnamon for a feminine touch...". The cocktail-minibar-handbag will be released in limited edition in November 2012. Photo: (C) Pascal Bouclier/Remy Martin.
Source: Original article with images on http://www.fashionoffice.org/cuisine/2012/cointreau10-2012.htm.

more fashion.at/mobile>

News from
October 2012
September 2012
August 2012
July 2012
June 2012
May 2012
April 2012
March 2012
February 2012
January 2012

subscribe
terms
imprint
(C) Sawetz, since 1996