14 August 2012 - Short Message
#MusicDownload 'BC' by Cold Showers from the debut LP 'Love and Regret' (9 October, Dais)
Los Angeles based band Cold Showers was founded by Jonathan Weinberg, Jessie Clavin, Brian Davila, Renee Adams and Chris King in 2010. Now, they publish the first single from the debut album 'Love and Regret' (9 October, Dais). 'BC' makes think of the sound of Joy Division's new wave and fits to the band's own description of the album's sound made of 'heartbroken echo' with 'postpunk signatures'.
Cold Showers are on tour on 20 September in Brooklyn/NY; 21 September Montreal/QC... Find more dates on thefader.com.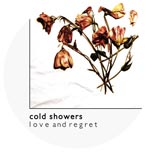 fig.: Detail of the album cover of Cold Showers debut LP 'Love and Regret'.
Track listing:
1. Alight
2. I Don't Mind
3. Violent Cries
4. So I Can Grow
5. BC
6. In Terms of Pleasure
7. New Dawn
8. Seminary
News from
July 2012
June 2012
May 2012
April 2012
March 2012
February 2012
January 2012

subscribe
terms
imprint
(C) Sawetz, since 1996