Facemasks for snowboarders

...by Airhole seen on 8 October 2012 at the Frankfurt headquartered online store dom-ck.com. The store offers a nice selection of pieces from motorbike helmets, fashion like facemasks or bikinis, over technics such as headphones, DJ pokketmixer, to baby & kids items like the ecological 'i-Wood - My first Laptop'.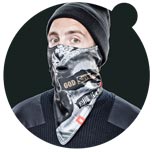 fig. original from left to right: Facemask 'The Queen' which remembers The Sex Pistols' sleeve for the single 'God Save the Queen' (1977) and right, the mask 'Insane' in Hannibal Lecter style; both are by Airhole. The Canadian company was founded by the professional snowboarders Kale Stephens and Chris Brown; airholefacemasks.com. Photos: (C) 2011 Scott Serfas. All Rights Reserved.
Campaign video 'Airhole: Facemasks You Idiot'; directed by Randy Ross for Endeavor Design Inc. / 2011.
Source: Original article with image and video on http://www.fashionoffice.org/collections/2012/dom10-2012.htm.

more fashion.at/mobile>

News from
September 2012
August 2012
July 2012
June 2012
May 2012
April 2012
March 2012
February 2012
January 2012

subscribe
terms
imprint
(C) Sawetz, since 1996