14 May 2012 - Short Message
#Ballet by Doris Uhlich as social critical performance; seen at #ImpulsTanz Festival #Vienna
ImpulsTanz publishes the video of the dance performance 'Spitze' by the Austrian dancer, choreographer, performance artist Doris Uhlich. 'Spitze' (the word refers to toe dancing) is about the idealization of the ballerina and the structures (hierarchies) of the classical ballet. The two other dancers in the video are Susanne Kirnbauer, former prima ballerina (first solo dancer) at the Vienna State Opera, and dancer Harald Baluch. The video begins with Susanne Kirnbauer changing her shoes impulstanz.com.
On 28 July 2012, Doris Uhlich will perform 'Rising Swan' during the 'ImPulsTanz – Vienna International Dance Festival' (12 July - 12 August, several venues) at the Odeon Theatre in Vienna.
Doris Uhlich writes about her intention to re-interpret the revolutionary ballet 'The Dying Swan' from 1907, first danced by Anna Pavlova: "The combination of pop and classical ballet brings me to the question: Which visions and zest for life are in popular songs that accompany me since my youth? Feel the city breakin´, everybody´s shakin,´ we are stayin´ alive! Maybe, maybe not." dorisuhlich.at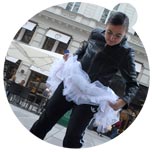 fig. original: Doris Uhlich 'Rising Swan'. Photo: (C) Andrea Salzmann.
News from
April 2012
March 2012
February 2012
January 2012
December 2011
November 2011
October 2011
September 2011
August 2011

subscribe
terms
imprint
(C) Sawetz, since 1996