'Green' fashion initiative

Esprit started the 'Make Your Wish' campaign last year in November and invited online-users to send ideas for social and environmental initiatives to the label's website esprit.com. Now in July 2012, the fashion label announces the details of the realization of the first of five wishes which had been selected after their positive effects on social communities and the natural landscape; it's not about the one you can see on the image (right).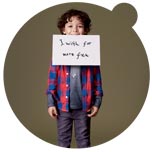 fig. original: Boy with 'I wish for more fun' poster from the Esprit 'Make Your Wish' campaign (2011). Photo by Paul Wetherell, (C) Esprit.
But it seems as if the realization of the first wish for 'More Trees' will make fun too (view the photos below). In November 2012, Esprit will reforest in cooperation with 'Natuurpunt' the urban landscape of Sint-Katelijne-Waver in Flanders. Esprit sponsors the reforestation of around 4.000 square meters of the 'Waverwoud'-forest.
'I wish for more trees' was sent by Jill from Antwerp, Belgium. The next wish on Esprit's list comes from London, UK; Robin's aim is to help the charity 'Yes to Life' to open up new options for people with cancer. The third wish was sent by the user 'Love' from the Philippines. Find the five selected wishes on esprit.com.
fig. original left: Jan Nord (left), Executive Creative Director Global Brand and New Business Esprit, and Jörgen Andersson (right), Creative Director Global Brand and New Business Esprit, on 29 May 2012 at the symbolic ceremony at the Esprit Concept Store in Antwerp to fulfill the first wish 'I wish for more trees'. Photo by Peter Johann Kierzkowski, (C) Esprit. fig. right: View at the reforestation in Flanders where kids help planting new trees. Photo: (C) Wim Dirckx
Source: Original article with images on http://www.fashionoffice.org/culture/2012/esprit7-2012.htm.

more fashion.at/mobile>

News from
July 2012
June 2012
May 2012
April 2012
March 2012
February 2012
January 2012

subscribe
terms
imprint
(C) Sawetz, since 1996