How to become a successful model nowadays
TV-formats such as 'Next Top Model' for example have pointed out that aspiring models are only 'media fodder' which is pulverized without considering the emotions and life of young people. Perhaps concepts like the one of 'Bonnie Strange' are the fair counterpart to inconsiderate TV-quota hunts: Bonnie Strange is model and appears as producer of physical and virtual content. She has an own fashion line and publishes on her website for example a parody about current TV formats: Shit Generation TV presents: Berlin Vierundzwanzigsieben.
In early November 2012, the European department store chain Peek & Cloppenburg announced that Bonnie Strange's label 'The Shit' (sweatshirt on this page) will be available soon (mid-November) at the high-end division 'Fashionation' which is installed in P&C stores in Berlin, Stuttgart and Vienna. The Fashionation area provides fashion by labels like Jil Sander Navy, Pierre Balmain, Paul Smith, Sonia Rykiel, Burberry, Moschino, etc. The range of the Fashionation area is promoted with Bonnie Strange as model.
It doesn't matter whether Bonnie Strange is writing the book of her career alone by herself or not - she has now many options to continue her way.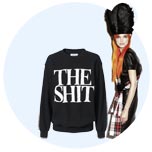 fig. original left: Sweatshirt by The Shit. Photo: (C) Studio Kumicak + Namslau, Gertigstraße 12-14, 22303 Hamburg. Right: Bonnie Strange in P&C campaign 'Metropolitan Styles' FW2012.
fig. original: Bonnie Strange as model in the photo series 'Metropolitan Styles' FW2012. The images are hanging in the Peek & Cloppenburg department store area 'Fashionation' and present pieces from the current collections.
Source: Original article with images on http://www.fashionoffice.org/collections/2012/fashionation11-2012.htm.

more fashion.at/mobile>

News from
October 2012
September 2012
August 2012
July 2012
June 2012
May 2012
April 2012
March 2012
February 2012
January 2012

subscribe
terms
imprint
(C) Sawetz, since 1996