Peggy's profile
On 23 August 2012, Fashionoffice received the information about a new bag by the Swiss label Freitag. The bag's name is 'Peggy' and was launched on the same day with images of different models made from recycled truck tarpaulins which travelled once on European freeways and a video that introduces into the qualities of the Peggy-bag.
The truck tarpaulins have started a new life in form of Peggy-bags which are developed for practical city usage such as riding on a bike. The video shows that the bag provides storage for daily food shopping; it has even enough space for several bottles. The extra, smaller bag is designed for essentials such as keys or beauty tools like mascara, lipstick.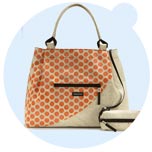 fig. original: 'F62 Peggy' bags by Freitag, launched on 23 August 2012. Technical information and Peggy's profile: 430 x 140 x 330 mm, volume: 19.0 litres. Robust, great for shopping & bopping and water-repellent. Photos: Bruno Alder (C) Bruno Alder Photographie.
Video: Freitag introduces with stop motion pictures and the example 'equipment for a home movie evening for two' into the usage of the new Peggy bag. Animation by owlstudios.ch; sound composed by Noerd.
Source: Original article with images and video on http://www.fashionoffice.org/collections/2012/freitag8-2012.htm.

more fashion.at/mobile>

News from
August 2012
July 2012
June 2012
May 2012
April 2012
March 2012
February 2012
January 2012

subscribe
terms
imprint
(C) Sawetz, since 1996