29 September 2012 - Short Message
#MusicVideo 'Mind Control' by Friends from the debut album 'Manifest!' and tour dates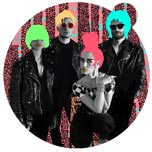 Brooklyn-based band Friends (vocals - Samantha Urbani, guitar/keys - Nikki Shapiro, percussion - Oliver Duncan, bass - V) are on US tour with the funky dance tracks from the new album 'Manifest!' (29 Sept Philadelphia, 30 Sept Boston, 2 and 3 Oct Washington DC... afriendszone.com)

The lyrics of the songs are about anarchism, empowerment of the individual, being wary of the government and media, existential awe, etc. The New York Times named the album "one of the year's most breathless debuts" and NME called them "One of 100 New Bands You Have To Hear."
Video: 'Mind Control' by Friends from the self-produced debut album 'Manifest!' (June 2012); video directed by Hiro Murai.
News from
September 2012
August 2012
July 2012
June 2012
May 2012
April 2012
March 2012
February 2012
January 2012

subscribe
terms
imprint
(C) Sawetz, since 1996