Fashion statement against winter in the city
Fashionoffice reported already in September 2011 about the Viennese knitwear label 'Fuck Winter' by Katharina Schober. The label's concept stays also this season the same. It bases on the idea to say out loud the things you dislike! 'Fuck Winter' stands for antipathy against winter in the city but with a dreamy view on snowy mountains such as the designer explains.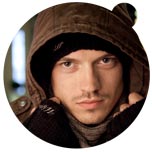 Only the colors became louder this season. For Fall/Winter 2012/13, the label presents pieces (caps, handwarmers, scarves...) in many bold colors like orange or red raspberry with silver 'Fuck Winter' stitching but even in warm combinations like the photo on this page shows (original). Additionally, the season statement is stitched on home accessories like heartwarmers; here in gold on black.
Find pictures of caps in louder colors on fuckwinter.at.
Source: Original article with images on http://www.fashionoffice.org/collections/2012/fuckwinter10-2012.htm.

more fashion.at/mobile>

News from
September 2012
August 2012
July 2012
June 2012
May 2012
April 2012
March 2012
February 2012
January 2012

subscribe
terms
imprint
(C) Sawetz, since 1996