Interactive fashion documentary
On 2 October 2012, the Italian shoe label Geox presented the new collection of waterproof boots 'Amphibiox' with an online campaign. Center piece of the campaign is an interactive traveling experience in India.
The signature of Geox shoes are the 'breathing' soles where membranes are incorporated against sweat and for better air circulation. Now, Geox developed a similar technology for the upper shoe and calls it Amphibiox.
On occasion of the new shoe line, the label publishes the online campaign with interactive documentary where four Amphibox testers are walking through Cherrapunjee in Northern India. Cherrapunjee holds currently according to Wikipedia (on 2 October 2012) the "world record for the most rainfall in a calendar month and in a year". The Geox online tour goes along a street; the user can change the walking speed and direction (forth and back) with the cursors. The protagonists appear on four points along this street. By clicking on the respective walker, a short film begins to play where each of them comments his or her experience and the environment. The first tester on the street is Andrea D'Alpaos (Venice tour guide) who walks over some bridges. One of them is an old, risky looking bridge that is made of living tree roots. The Italian Andrea D'Alpaos compares the symbiosis of human skills and nature with the architecture of his hometown Venice and says: "When you face such an incredible natural treasure, that's it...".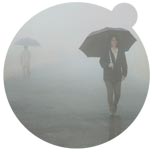 fig.: The photos on this page show two of the four testers; on the image above, photographer Claudia Leisinger (Swiss, born in India) and the other photo shows world traveling French snowboard teacher Rob Spears. Find more information about all testers on amphibiox.geox.com/the-ultimate-test/the-testers/.
Source: Original article with images on http://www.fashionoffice.org/collections/2012/geox10-2012.htm.

more fashion.at/mobile>

News from
September 2012
August 2012
July 2012
June 2012
May 2012
April 2012
March 2012
February 2012
January 2012

subscribe
terms
imprint
(C) Sawetz, since 1996