T-shirt with the theme statistics of blogs
Statistics as definition of the value of a person?
Well, the t-shirt label German Garment, co-founded by movie actor Matthias Schweighöfer and TV-moderator Joko Winterscheidt (photo), use the mathematical, quantitative facts as provocing statement on t-shirts. What makes this statement deeply authentic is that both founders are from the media biz and know about the power of statistically measured user interest which decides about the existence of media workers.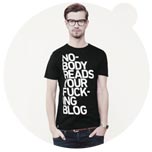 fig. original: German Garment co-founder Joko Winterscheidt wears the 'Nobody Reads Your F****** Blog' t-shirt. The t-shirt with hand-printed letters refers to the measurement of user activities, interest and the content published on a blog. It is this month's piece of the label. The production of the German Garment t-shirts follows environmental friendly criteria like regional manufacturing and pollution-free colors.
German Garment sells its goods via own online shop on germangarment.com; the special price for the t-shirt in navy/white with provocing writing until the end of August is 29,90 Euro.
Source: Original article with image on http://www.fashionoffice.org/collections/2012/germangarment8-2012.htm.

more fashion.at/mobile>

News from
August 2012
July 2012
June 2012
May 2012
April 2012
March 2012
February 2012
January 2012

subscribe
terms
imprint
(C) Sawetz, since 1996