Women's collection inspired by the digital world
In early October 2012, Italian fashion label Guess unveiled the upcoming campaign for the new 'Elin Kling for Marciano Capsule Collection' which comes into stores in November. Elin Kling is Swedish fashion blogger and model. For Guess' design team, she was the inspirational source; in the campaign, Elin Kling embodies the style of the collection herself.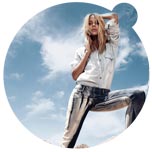 fig. original: Elin Kling dressed in one of the signature styles of the 'Elin Kling for Marciano Capsule Collection': sun-faded denim and shirt in boyfriend look. Elin Kling created in collaboration with the design team of Guess the new collection.
Guess has delivered this year already several digital and online inspired fashion products such as the anniversary video, directed and shot by photographer Ellen von Unwerth with Claudia Schiffer in the main role or items like the t-shirt "You will never be in my blog" from the current FW2012/13 collection.
The Italian label was founded by Paul Marciano in 1981. Paul Marciano (CEO and Creative Director of Guess) stands behind the collections and campaigns. The campaign 'Elin Kling for Marciano Capsule Collection' was directed by Paul Marciano and photographed by the duo Hunter and Gatti. The collection is inspired by the bull arena; the desert was chosen as the visual equivalent for the idea of dust at the bull fight.
The behind the scenes video of the shooting 'Elin Kling for Marciano Capsule Collection' by the photographers Hunter and Gatti shows Elin Kling in the desert of the 'Joshua Tree'-national park in California.
Source: Original article with image and video on http://www.fashionoffice.org/collections/2012/guess10-2012.htm.

more fashion.at/mobile>

News from
September 2012
August 2012
July 2012
June 2012
May 2012
April 2012
March 2012
February 2012
January 2012

subscribe
terms
imprint
(C) Sawetz, since 1996