Equipment for conquering new frontiers
...seen in August 2012 at the Viennese store 'Herr und Frau Klein' in the Kirchengasse in the city's 7th district. The shop owners and parents of two, Beate (before active in advertising and winner of a Cannes Lion) and Stephan Klein have collected pieces for the new school year, especially for the ones who enter school for the first time. The pieces are practical and have a sporty adventure appeal.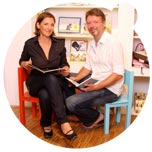 fig. original: Beate and Stephan Klein in their shop 'Herr und Frau Klein'.
The Kleins' three secrets for living and working together around the clock while raising two children: a nanny, a couples coach and a business consulter.

fig. (below, from left) original:
The school bag (normally filled with sweeties for the first school day) looks like a reversed hat of a wise magician. It is printed with white skulls of pirates - some wear a red eye-patch, on black ground.
The green striped sporty school rucksack 'Wikinger' carries an emblem which shows the head of a viking with helmet.
Neon-green Kokua bike 'LIKEtoBIKE'.
2 pencils with rubber on one end; one of the pencils is printed with skulls of pirates, the other carries the writing 'Schulkind'.
Writing desk 'Leander' with chair.
Water-resistant outdoor parka in signal red and everyday trousers in aqua blue by Finkid.

Seen in August 2012 at the store 'Herr und Frau Klein' at the Kirchengasse 7 in Neubau, Vienna (herrundfrauklein.com).
Source: Original article with images on http://www.fashionoffice.org/interior/2012/herrfrauklein8-2012.htm.

more fashion.at/mobile>

News from
August 2012
July 2012
June 2012
May 2012
April 2012
March 2012
February 2012
January 2012

subscribe
terms
imprint
(C) Sawetz, since 1996