The challenges of sustainable fashion
On 12 April 2012, the Swedish fashion producer and retailer H&M released the annual Sustainability Report 2011 (it's the tenth sustainability report of the label) together with the 'Conscious'-collection (available worldwide in around 100 stores and selected looks online) which was derived from the idea of environmental and social friendly behaviour.
Especially mentioned by H&M are trainings of more than 442 000 workers in Bangladesh on their rights, the intense usage of organic cotton, the savings of water in denim production, and activities in charities - H&M lists more than 2,3 million garments that were donated to charitable causes.
H&M's main aims concern a stable labour market, women's rights, skills, education, health and the usage of environmental friendly materials such as organic cotton, hemp, and recycled polyester (from used PET plastic bottles for example - the list with descriptions of the materials and recycling-certifications of the 'Conscious'-collection is published online).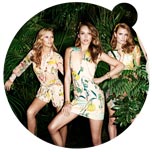 fig.: H&M 'Conscious'-collection

"We are proud about the achievements we have made during the year. But we are also aware of the challenges ahead. We strive to be transparent about our progress and the report is an important part of that. There are a number of things that really standout such as our plan to further support social development in one of our most important sourcing markets, Bangladesh as well as H&M being the biggest user of organic cotton in the world", says Helena Helmersson, Head of Sustainability at H&M.
The report is published on hm.com/consciousactions2011.
Video: Helena Helmersson (Head of Sustainability at H&M) and Ann-Sofie Johansson (Head of Design at H&M) are talking about the 'Sustainability Report 2011' and the just released (12 April 2012) new 'Conscious' fashion collection.
Source: Original article with video on http://www.fashionoffice.org/collections/2012/hm4-2012.htm.

more fashion.at/mobile>

News from
March 2012
February 2012
January 2012
December 2011
November 2011

subscribe
terms
imprint
(C) Sawetz, since 1996