Q: How to announce a design/retail collaboration that brings together two universes nowadays?
A: With a scenery that reminds a protest march!
On 12 June 2012, H&M and Maison Martin Margiela announced the collaboration between the worldwide active Swedish fashion label/retailer and the Paris based exclusive Prêt-à-Porter and Haute Couture fashion house. The collaborative fall/winter 2012 collection (clothing and accessories for women and men) will arrive at H&M stores and online on 15 November 2012.
H&M (founded 1947) is one of the forward thinking labels that brought 'democracy' into the streets by offering fashion which is affordable and acceptable over the classes.
Maison Martin Margiela (the label belongs to Renzo Rosso's Diesel Group) is known for honoring work and is addicted to the recycling of materials (such as realized at the Artisanal line where garments and accessories, used or not, get a 'Second Life'), for experimenting with tailoring techniques and Haute Couture handcraft while reworking gender representations in fashion, and creates from exclusive Haute Couture and Prêt-à-Porter pieces for women (SS2012) to sportive men's wear (FW2012/13) and sunglasses a wide range.
Since December 2009, the Maison's design team creates collections by following the style of the founder (1988 in Paris) Belgian Martin Margiela. The idea of working in a design-team is part of the label's concept.
"We are very happy to present MAISON MARTIN MARGIELA pieces with H&M, offering a new interpretation of our vision. The democracy of our fashion has always been at the centre of our creativity, and the collaboration with H&M allows us to push this instinct further. We will bring together the contrasting universes of the two houses in ways that will surprise all." Maison Martin Margiela.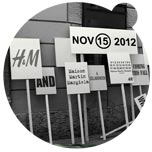 fig. original: 'Announcement' of the collaboration between H&M and Maison Martin Margiela. The shields - which are standing in a group just as before or after a protest march, are announcing the release of the collaborative fall/winter 2012/13 collection on 15 November 2012.
Source: Original article with image on http://www.fashionoffice.org/collections/2012/hm6-2012.htm.

more fashion.at/mobile>

News from
June 2012
May 2012
April 2012
March 2012
February 2012
January 2012

subscribe
terms
imprint
(C) Sawetz, since 1996