Dark electronic beats-ambient sound

...with the vibration of industrial rock heard on the music stream of the 'An omen EP_' provided by the Los Angeles-based collective How to destroy angels_ which consists of Nine Inch Nails' Trent Reznor, Atticus Ross (both are known for composing the soundtrack of the movie 'The Girl with the Dragon Tattoo', Mariqueen Maandig, and Rob Sheridan. The 'An omen EP_' is the debut release of the four musicians on Columbia Records.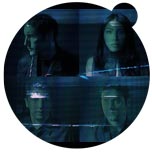 fig. original: 'How to destroy angels_' are (clockwise) Mariqueen Maandig, Rob Sheridan, Atticus Ross, Trent Reznor.
Track listing 'An omen EP_', release on 13 November 2012 (digitally and vinyl) via Columbia Records:

1 Keep it together
2 Ice age
3 On the wing
4 The sleep of reason produces monsters
5 The loop closes
6 Speaking in tongues
Music stream 'The loop closes' by How to destroy angels_ from the 'An omen EP_':


Source: Original article with image and stream on http://www.fashionoffice.org/culture/2012/howtodestroyangels11-2012.htm.

more fashion.at/mobile>

News from
October 2012
September 2012
August 2012
July 2012
June 2012
May 2012
April 2012
March 2012
February 2012
January 2012

subscribe
terms
imprint
(C) Sawetz, since 1996