Furniture that references a hot spot in Vienna
From 17 to 22 April 2012, furniture manufacturer Kohlmaier (founded by the great-grandfather of Peter and Bernd Kohlmaier in 1884 in Austria) presents the 'Neubau Chair' at the Salone Internazionale del Mobile in Milan.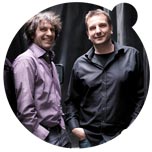 fig. original: Peter (left) and Bernd Kohlmaier. Photo: Ditz Fejer.
Kohlmaier is known for collaborating with architects and designers. For the Neubau Chair, Kohlmaier has teamed up with the awarded designer and professor in the field of Industrial Design at the Muthesius Academy of Fine Arts and Design in Kiel (DE) Thomas Feichtner who has realized the multifunctional furniture - inside the chair is enough space for magazines or home textiles.
The name of the 'Neubau Chair' references the 7th district 'Neubau' in Vienna. 'Neubau' means translated from German into English 'New Build' or 'New Construction'. The Viennese district became in the last years a hot spot for the creative scene and is even the base of the studio of the chair's designer Thomas Feichtner and the company Kohlmaier where the multifunctional seat-storage space is manufactured.
fig. original: 'Neubau Chair', design by Thomas Feichtner. Photos: Kohlmaier Wien.

Source: Original article with images on http://www.fashionoffice.org/interior/2012/kohlmaier4-2012.htm.

more fashion.at/mobile>

News from
March 2012
February 2012
January 2012
December 2011
November 2011

subscribe
terms
imprint
(C) Sawetz, since 1996