Dolls with focus on make-up, fashion, personality and not the body

...seen in October 2012 at the mojo alike creations by Andrew Yang for Lancôme. The focus of the dolls by the Brooklyn/New York-based artist are not the bodies but their make-up, the fashion pieces which are made of silk chiffon (mousseline) and pallets, and the personalities that are mediated. Girls and women can choose the magic looking puppet after content and outfit.
Lancôme reports that Andrew Yang's dolls are already beloved from Tokyo to Shanghai. In 2008, Andrew Yang created his first handmade 'fashion rag dolls' from recycled textiles and received attention by Anna Wintour who connected him with the fashion world.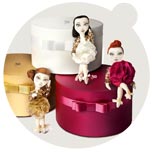 fig. closer view: Collection 'Dollydays' by Andrew Yang for Lancôme, seen in October 2012. The rose-draperies (the rose is the sign of Lancôme) and golden pallets-jackets are the signature of the three Lancôme-dolls by Andrew Yang.
Left: Isabelle is the 'Golden Doll'. She wears gold mousseline which is draped in the front middle of the dress into the form of a rose. Her personality: she loves to stand in the spot light.
Middle: Alyssa's nickname is 'Porcelain Doll' because of the strong color contrasts of her outfit (black hair, make-up and white dress) which enhances the impression of fragility and the jewel alike light of her charisma. Alyssa stands for elegant seduction.
Right: Camille is the 'Star Doll' and is dressed in red. The rose on her shoulder symbolizes a red fur jacket. Her personality: offensive.
Source: Original article with image on http://www.fashionoffice.org/culture/2012/lancome10-2012.htm.

more fashion.at/mobile>

News from
September 2012
August 2012
July 2012
June 2012
May 2012
April 2012
March 2012
February 2012
January 2012

subscribe
terms
imprint
(C) Sawetz, since 1996