Nature and jeans in a 'Love Story'
The photo from the current Levi's Fall/Winter 2012/13 campaign makes think at the first sight of Ali MacGraw's natural early 1970ies style in the famous movie 'Love Story'.
But Levi's 'Love Story' is dedicated to the nature of the oceans, the people and coasts in Maine (US) and the landscapes in Scotland and Iceland.
The forest's greens, stone grays, the browns of woods and chestnuts, blues of the sea, and light reflexions' warm red inspired the coloring of the items which are made from traditional materials known from handcrafts like heavy wool or napped twill. For the styles of the outerwear, the designers were inspired by the lifestyles at the coasts and created jackets and pullovers with references to sailor clothing.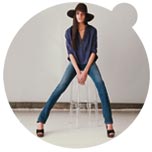 fig. original: Embroidered neck blouse and CurveID Darted Skinny Bootcut jeans by Levi's, FW2012/13.

Levi's video provides insights into the inspirations of the design team for the creation of the Fall/Winter 2012/13 collection. The film shows the landscape and the people of Maine.
Source: Original article with image and video on http://www.fashionoffice.org/collections/2012/levis10-2012.htm.

more fashion.at/mobile>

News from
September 2012
August 2012
July 2012
June 2012
May 2012
April 2012
March 2012
February 2012
January 2012

subscribe
terms
imprint
(C) Sawetz, since 1996