Fashion film documentary series from European cities
...such as from Copenhagen with portraits of motorcyclists and former skateboarders who have incarnated the 'on-wheels' lifestyle. The bikers are from the mechanicians crew 'The Wrenchmonkees'. They are up-cycling and customizing bikes with pieces from various brands - without any preference. They have also created their own work style which can be described as 'independent'.
Denim label Levi's, the producer of the insights into the lifestyles of different groups in selected European cities, summarizes the style of The Wrenchmonkees from Copenhagen in the video commentary (below) as follows: "In short: these guys focus on unique machines, a clean, raw and no-frills aesthetic, and ultimately a timeless experience on two wheels."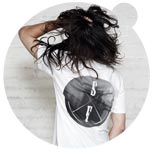 fig. original: The fashion film documentary series 'Locals Only' is part of the campaign for Levi's current 'Streetwear'-collection FW2012/13 with highlights like graphic tees in modern work style such as on the photo on this page. The profiles of the portrayed protagonists are different with one variable as the 'red thread': skateboarding. Other images (view the original, right column) show atmospheric pictures from the photo series which accompanies the documentary 'Builders Jam' from Hannover where skateboarders are building a skate park. Levi's has extended the campaign into the label's distribution concept and delivers the pieces from the 'Streetwear'-collection via European skate shops such as Slam City (London), Moreboards Stores in Austria, or Streetmachine in Copenhagen. Until 11 October 2012, Levi's has unveiled following documentaries on YouTube: Marseille, Berlin, Barcelona, Hannover and Copenhagen.
Video: 'Copenhagen' from Levi's 'Locals Only' documentary series, 'Streetwear'-collection FW2012/13.
Source: Original article with images and video on http://www.fashionoffice.org/culture/2012/levis10-2012.htm.

more fashion.at/mobile>

News from
September 2012
August 2012
July 2012
June 2012
May 2012
April 2012
March 2012
February 2012
January 2012

subscribe
terms
imprint
(C) Sawetz, since 1996