Vienna Insight, July 2012: How Vienna becomes a 'greener' city
In July 2012, parking, car driving and cycling are themes which shake up Vienna city politicians. While the politicians are doing their (own) thing, the Viennese work on new concepts to get a 'greener' city.

Fashion trends like garments which are equipped with new technologies for urban biking such as Levi's Commuter FW2012/13 collection meet a fertile ground in Vienna where the new collection is available in bicycle shops.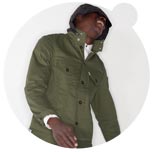 fig. original: The Levi's All Weather Hooded Commuter Trucker Jacket in ivy-green is made from stretch and water resistant fabric and equipped with venting system and reflective taps, etc. The green jacket is combined on the photo above to the 505 Commuter Jeans (higher back rise, 3M reflectivity for night bikers, water resistant and dirt repellant material, to name a few features).
fig. original: The Levi's 511 Commuter Slim Trouser is made for all weather ridings. The Commuter Work Shirt dries fast and transports sweat quickly from the inside to the outside.
In Vienna, the Levi's Commuter Series F/W2012/13 is available since mid-July 2012 at following bicycle stores:
Some words about the current discussion in Vienna: politicians argue for parking fees in some of the city's districts and ignore that their concept has negative effects on people - for example old people who need the car often for social contacts, and that the fees widen the gap between the social classes as daily living becomes once again more expensive. It is true that the city has too many cars and there is no question that car sharing is the future.
But the current political discussion's main themes are not concrete ideas to solve the problem of too many cars and the need for flexible transportation services - like car sharing offers, the discussion has reached a point where the principle of the Austrian political system is in question. Shall community decisions happen from 'above' or with the democratic involvement (voting) of citizens?
It seems as if parking, car driving, cycling have caused a stronger political focus on 'direct democracy' (means that people vote for or against critical community strategies), while private companies organize car sharing, lifestyle-sport labels sell special urban cycling collections in biker shops, and if nothing comes in between, the city will get both - a greener landscape and a more direct democracy system.
Source: Original article with images on http://www.fashionoffice.org/collections/2012/levis7-2012.htm.

more fashion.at/mobile>

News from
July 2012
June 2012
May 2012
April 2012
March 2012
February 2012
January 2012

subscribe
terms
imprint
(C) Sawetz, since 1996