Sustainable - but no 'green angels'
On 13 July 2012, the fashion label Y/O/U will be launched at own stores in Berlin and Vienna. The official opening of the flagship stores in both cities is on 16 July 2012.
Environmental friendly means for Y/O/U sustainable, regional (100% European) production to prevent air pollution.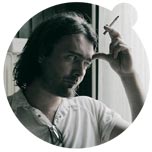 fig. original: Co-founder jurist Philipp Marouschek. Photo: (C) makesyoureal.com.
Despite sustainable awareness, the fashion makers are not standing with the wagging finger to teach people environmental-friendliness, such as Marouschek explained the label's mission on pressetext.com. He continued that another big challenge of our society today is to share the prosperities of our world and announces that 50% of the profits will be donated to social projects.
The founders of the label Philipp Marouschek and Wilfried Maierhofer work for the realization of the environmental friendly approach to fashion with designers like the Austrian Anna Aichinger.
Video: Fashion film Y/O/U (published on 26 June 2012 by makesyoureal.com).
Source: Original article with image and video on http://www.fashionoffice.org/collections/2012/makesyoureal7-2012.htm.

more fashion.at/mobile>

News from
June 2012
May 2012
April 2012
March 2012
February 2012
January 2012

subscribe
terms
imprint
(C) Sawetz, since 1996