Women on the catwalk in New York
Finnish textile and fashion brand Marimekko documents the label's first ever show during New York Fashion Week with postings on Facebook and images on Pinterest. The social media activities concerning the event on 10 September 2012 give insights into the inspirations, backstage and the media coverage of the SS2013 womenswear which is entitled 'Art of Print Making - Color for a Reason' and consists of colorful prints and clothing made of straight patterns. The collection was developed under the direction of Noora Niinikoski, the Head of Fashion Design of Marimekko.
One big theme at the catwalk of Marimekko is the selection of the protagonists of the fashion label. President and CEO Mika Ihamuotila explains on fashion.telegraph.co.uk that they have selected models who share Marimekko's values. "... Marimekko has a philosophy of encouraging people to be who they are and not to hide your identity."

Marimekko was founded by one of the first female entrepreneurs in the fashion business Armi Ratia in 1951. World of Numismatics for example pays homage to Armi Ratia with an own silver coin. The brand received international attention by magazines like Vogue, Elle, Women's Wear Daily after Jacqueline Kennedy posed in 1960 on the cover of Sports Illustrated in a red sleeveless Marimekko dress. Already in 1968, Armi Ratia released unisex t-shirts. The t-shirts' even stripes stood for equality. In 2008, Marimekko and H&M released a collaborative collection of around 50 products for women, men and kids with fresh, fruity prints and made the signature fashion style accessible for a wider public.
On occasion of the NY Fashion Week presentation president Mika Ihamuotila says on marimekko.com that the show in New York was held to support the label's business in US and announces to extend the representation of the brand in the United States with the opening of new stores this autumn in Beverly Hills and Palo Alto.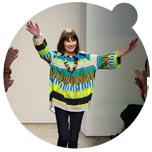 fig. original: Head of Fashion Design of Marimekko Noora Niinikoski (right) and model Carmen Dell'Orefice (left) on the runway at the Marimekko Spring/Summer 2013 fashion show during Mercedes-Benz Fashion Week on 10 September 2012. Photos: Dario Canatatore/Getty Images for Mercedes-Benz; (C) 2012 Getty Images.
Source: Original article with images on http://www.confashion.com/ss2013/marimekko9-2012.htm.

more fashion.at/mobile>

News from
August 2012
July 2012
June 2012
May 2012
April 2012
March 2012
February 2012
January 2012

subscribe
terms
imprint
(C) Sawetz, since 1996