"The design was purely cosmetic"
...is Jim Marshall, founder of the music amplifier, speakers and headphones brand Marshall cited on jimmarshall.co.uk. The anecdote about the angle of the amplifiers/speakers gives insights into Jim Marshall's approach to design which was not only technical: "The design was purely cosmetic," Jim grinned "I didn't even consider what the angle did to the sound at the time." And the anecdote is continued by Jim Marshall's memories (he died this year in April) "...the angle was working! I just shook my head and thought, 'What a fool I am!' It's actually a pretty clever design in terms of what it does to the sound and I never even realised it!"
On 22 September 2012, the Marshall Amplification will celebrate '50 Years of Loud' with bands like Iron Maiden, The Cult, Black Label Society, etc at the Wembley Arena. The rock'n'roll night is organised on occasion of the 50th anniversary of the founding of the label by guitar amplifier and speakers pioneer Jim Marshall (aka the 'Lord of Loud') in 1962 in a small drum store in London.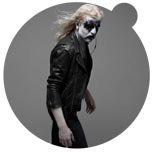 fig. original: On-ear 'Major Pitch Black' headphones by Marshall, 2012. The models' face styling 'Corpse Paint' references Black Metal culture which belongs to the heritage of the Marshall brand. Corpse paint is known from music groups like 'Kiss' or the movie 'The Crow' with Brandon Lee in the main role.
Source: Original article with images on http://www.fashionoffice.org/collections/2012/marshall8-2012.htm.

more fashion.at/mobile>

News from
July 2012
June 2012
May 2012
April 2012
March 2012
February 2012
January 2012

subscribe
terms
imprint
(C) Sawetz, since 1996