28 women reflecting contemporary lifestyle

...seen at the material for the global Martini Royale Casting on 11th September 2012.
The Italian label Martini is known for its aromatized sparkling wine (founded 1863, belongs today to the Bacardi Group). Now, Martini is searching via voting for the new global face of a woman who express the motto 'Luck is an Attitude' best.
Currently, 28 women from 23 countries are presented by Martini from the fields modeling, performing, dancing, sport, styling, etc with photos from the shooting on Ibiza by photographer Bryan Adams under the art direction of Tom Usher and styling by my-wardrobe.com founder Sarah Curran.
The 28 women were selected from 3.500 entries by a jury with prominent members such as shoe designer Christian Louboutin. In October, 7 finalists will start into the last round in Milan where the winner will be selected.
It is announced that the voting with an entertainment-series consisting of twelve episodes are on view on facebook.com/Martini. Fashionoffice couldn't test the voting because the 'content is not available' on Facebook in Austria; the episodes are published on YouTube. Nevertheless; it's interesting that Martini has chosen women with different backgrounds and - after a fast check, the profiles on YouTube give good insights into the lifestyles of contemporary women from different countries.
Martini invites: "Watch and vote for your favorite each week starting on the 4th September at facebook.com/Martini. Luck is an Attitude."
Try it out. Perhaps you are lucky and the content is available in your country. Luck is sometimes not only an attitude; especially when you are confronted with country barriers!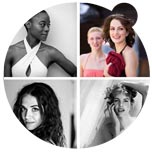 fig. original, from left, clockwise: Model, dancer, actress Sibongile Mlambo from South Africa (profile video), actress Anastassiya Tarassova from Kazakhstan (video), model Debora Franchi from Italy (video), athlete Barbara Gonzalez Oteiza from Spain (video). The profile photos were provided by Martini (via Getty Images) on 4 September 2012. Photos: (C) 2012 Martini.
Source: Original article with images and video on http://www.fashionoffice.org/culture/2012/martini9-2012.htm.

more fashion.at/mobile>

News from
August 2012
July 2012
June 2012
May 2012
April 2012
March 2012
February 2012
January 2012

subscribe
terms
imprint
(C) Sawetz, since 1996