Fashion housewarming party in Vienna
On 10 May 2012, the German men's wear label McNeal (founded 1976, stores in Europe and Asia) invites to the housewarming party at the Viennese flagship store on the Kärntner Strasse. The evening event on 10 May is for invited guest only; on 11 and 12 May, McNeal continues the flagship store event with a two day long fashion festivity for customers.
Additionally, McNeal's Managing Director Oliver Hinrichs announces for July/August 2012 the release of the new item 'shoe'. Not on view on this page; but Fashionoffice has seen a preview image: the boots combine work wear style, mountaineering sports design and classical elegant shoes in the tradition of handcrafted footwear from Budapest, aka 'Budapester'.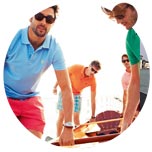 fig. original: Campaign image, (photo left) cotton t-shirt 'Movies' for men from the 'Reunion Weekend' collection SS2012 by McNeal. An old yearbook and photos of a students-meeting - the 'Reunion Weekend' with rowing regatta in the Hamptons contributed the ideas for the collection and the campaign.
fig. original: The facade of the McNeal flagship store (around 350 square meters) on the Kärntner Strasse 35, corner Johannesgasse in the Inner City of Vienna, next to the fashion department store Peek & Cloppenburg (opened last year in August). McNeal doesn't belong directly to the warehouse but is an independent label leaded by CEOs of the wellknown department store. McNeal uses for the living room alike architecture of the two floors light colors and combines classical leather and wood furniture. Between the floors, McNeal has arranged the images of the 'Reunion Weekend' campaign in Petersburger (space-saving) hanging.
McNeal stands for affordable men's wear and an international style which is inspired by world travelers' sportive-elegant classic-modern outfits. Each season, the designers are inspired by other world regions or sportive themes (biking, baseball, football...). In spring/summer 2012, the style of American and British students and the tradition of rowing regattas have influenced the colorful and maritime men's wear collection.
Source: Original article with images on http://www.fashionoffice.org/interior/2012/mcneal4-2012.htm.

more fashion.at/mobile>

News from
April 2012
March 2012
February 2012
January 2012
December 2011
November 2011

subscribe
terms
imprint
(C) Sawetz, since 1996