Chocolate, headgear, skiers and a musician
On 25 October 2012, chocolate label Milka presented the athletes of the 'Milka Ski Stars' team with a photo series shot by musician Bryan Adams and the interactive lucky charm contest for the women's headgear during the World Ski Championships in Schladming in Austria.
The skiers on the photos (right and below) are from various countries. During the next months, they will take part in more than 30 Alpine Ski World Cup races such as the World Championships in Schladming (4 - 17 February 2013).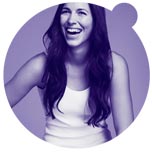 fig. original: Italian athlete Elena Curtoni. Photo: (C) Bryan Adams for Milka 2012/13.

fig. original: Pictures of lucky charm stickers and the signature lilac colored Milka helmet. The winning illustrations will be printed on the helmets of the respective athlete. Photo: Milka.
By fast checking the gallery of the Milka helmet stickers on 29 October 2012 some days after the start of the Milka Ski Star contest, the users are sending luck bringers such as frogs, stylish sketches like sports illustrations or reference the environment with snow crystals. For the Austrian (Kitzbühel living) Maria Höfl-Riesch, one user wishes good luck with a green frog on a cloverleaf, Praha-based (Czech) Sarka Zahrobska inspired another user to send an illustration of a dynamic skier in black/white graphics in fashionable style, and for Elena Curtoni (lives in Cosio Valtellino, Italy), an Alpine ski fan created a pink snow crystal.
fig. original: The 'Milka Ski Stars' athletes Maria Höfl-Riesch, Sarka Zahrobska, Tessa Worley, Tina Maze (the current World Champion in giant slalom has recently released her music video 'My Way Is My Decision'), Michaela Kirchgasser, Elena Curtoni are styled in blue jeans, white shirts and natural make-up and hair dressing. The photos by musician (Grammy award winning, 3 time Oscar nominated singer/songwriter) Bryan Adams are inked in signature 'Milka-lilac'. Bryan Adams has already photographed for magazines such as Interview, Harpers Bazaar, British Vogue or German Vogue, portrayed stars like Amy Winehouse, Mick Jagger, Lenny Kravitz, etc. and did campaigns for brands like Calvin Klein, Guess Jeans, or Audi. Photos: (C) Bryan Adams for Milka 2012/13.
Source: Original article with images on http://www.fashionoffice.org/cuisine/2012/milka10-2012.htm.

more fashion.at/mobile>

News from
October 2012
September 2012
August 2012
July 2012
June 2012
May 2012
April 2012
March 2012
February 2012
January 2012

subscribe
terms
imprint
(C) Sawetz, since 1996