Summer 2013 presentations and October 2012 preview
While in early July 2012 the summer is getting hot and hotter in Central Europe with temperatures of approximately 40° Celsius (weather on 1 July in Vienna), fashion creators present their styles for summer 2013 such as at the next Berlin Fashion Week (3 - 8 July) and retailers plan autumn 2012 campaigns like Pink Ribbon charities.
The closest and for fashion and beauty consumers and retailers worldwide most important date is next October when the breast cancer awareness charity campaigns hit the stores. Fashionoffice combined on this page one piece from such a Pink Ribbon campaign with two items which are dedicated to a regional Central European Alps fashion theme, the two weeks event 'Oktoberfest' (October Festival). Originally, the Oktoberfest (a beer party) happens in Munich where people from Germany, Austria, Switzerland, South Tyrol have fun on the 'Wiesn' - a greenfield. The original Oktoberfest in Munich counts to the largest public parties worldwide. Even many other cities celebrate the Alpine beer festival such as Vienna; although the city lies closer to the flat and wide 'Puszta' (Hungarian Steppe) than to the high mountains of the Alps which is also reflected in the climate: the influence of the continental climate of the Danube - Puszta region causes on days like 1st July approximately 40° Celsius in Vienna while people in the Austrian Alps enjoy refreshing 25° Celsius.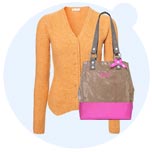 fig. original: Cardigans in orange and blue in European Alps style by the German cashmere label Heartbreaker, autumn 2012. In the middle, the pink bag 'Girls4fight' with Pink Ribbon detail by George Gina & Lucy for the breast cancer awareness month October 2012. 100% of the purchase of the limited to 250 bags edition will be donated to the research of breast cancer. Storefinder on george-gina-lucy.com.
Source: Original article with images on http://www.fashionoffice.org/collections/2012/octoberpreview7-2012.htm.

more fashion.at/mobile>

News from
June 2012
May 2012
April 2012
March 2012
February 2012
January 2012

subscribe
terms
imprint
(C) Sawetz, since 1996