Superman tattoo, black-white dressed cyber punks
...seen at the fashion presentation of the Spring/Summer 2013 collection 'Ultra Mod' by Priyo Oktaviano at Dewi Fashion Knights during Jakarta Fashion Week on 9 November 2012.
Priyo Oktaviano was one of five designers who were selected by the fashion publication 'Dewi Magazine' for the runway to represent 'The Next Chapter' of Fashion Indonesia.
Priyo Oktaviano's 'Ultra Mod' is inspired by the 1960ies Mods in London and bad boys and bad girls, introduces jakartafashionweek.co.id into the unisex collection.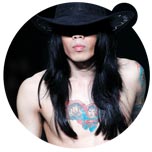 fig.: Runway presentation of 'Ultra Mod' SS2013 by Priyo Oktaviano at the Dewi Fashion Knights during Jakarta Fashion Week 2013 at Plaza Senayan on 9 November 2012 in Jakarta. Photos by Budi Harianto/Feminagroup.
The image above (original) shows a model with black hat, long hair and Superman tattoo. The style of the outfit on another picture reminds on the first sight Peruvian style. It consists of a black hat and rich embroidered wide elegant top which is worn above a sporty blouson.
The white blazer with black-white geometric patterned lapel and the dress and leggings in black and white pattern are examples for the signature textile designs of the fabrics used for the 'Ultra Mod' collection by Priyo Oktaviano. The fabric designs look as if the typical Mods' chess game pattern has met the computer screen which pixels it generously with 'culture across country'-touch.
Video: Teaser for the presentation of the 'Ultra Mod' collection SS2013 from the Spous line by Indonesian award-winning designer Priyo Oktaviano. at Dewi Fashion Knights during Jakarta Fashion Week 2013.
The designer graduated from Esmod Paris in 2001 and worked at Balenciaga in Paris. Priyo Oktaviano has received already several prizes such as at the ELLE Awards 2009 the 'Indonesian Fashion Designer of The Year' priyooktaviano.com.
Source: Original article with images and video on http://www.confashion.com/ss2013/oktaviano11-2012.htm.

more fashion.at/mobile>

News from
October 2012
September 2012
August 2012
July 2012
June 2012
May 2012
April 2012
March 2012
February 2012
January 2012

subscribe
terms
imprint
(C) Sawetz, since 1996