VIENNA INSIGHT by Karin Sawetz on 4 December 2012
Sweet fashion for controversial ball

Vienna has many balls, dance balls.
Fashionoffice has already written about two upcoming Austrian balls at the end of 2012 and in 2013; 'Le Grand Bal' which is an elegant high culture dance event on New Year Eve and the 'Tuntenball' on 23 February - the Queer Ball is a fanciful charity for the support of legal equality and social diversity.
But then there is one ball which divides the country. Unfortunately this particular ball is quasi the Austrian State Ball. It is called after its location 'Vienna Opera Ball' and will happen next time on 7 February 2013 at the Vienna State Opera.
Why this ball causes controversy in Austria? That's simple: the ball shall stand for high culture and social responsibility. High culture is fulfilled with the performance by the Opera ballet, the musicians, the artists, and creative side-activities such the one from fashion designer Sabine Karner who has sketched the Ferrero Rocher robe on occasion of the chocolate label's sponsoring of the ball.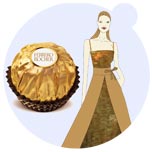 fig. original left: Chocolate in the form of a ball by Ferrero Rocher. Photo: (C) Ferrero Rocher. Right: The sketch shows the Ferrero Rocher ball dress design by Sabine Karner on occasion of the Vienna Opera Ball at the Vienna State Opera on 7 February 2013. Sabine Karner was inspired by the visual appearance of the chocolate ball by Ferrero Rocher. Photo: (C) Sabine Karner.
But it's the social responsibility which is missed at the quasi State Ball. And not 100.000 charities at the ball can compensate this fact. It must be the attitude which stands behind the ball or what ever it is that reaches the people through media and makes them think controversially about the Vienna Opera Ball.
The Austrians have nothing against 'performance'. The Austrians only don't like to be fooled by people - and unfortunately particularly the ball at the Vienna State Opera is the meeting place of people who are in positions (and seen through the journalistic eyes of many publications, these positions are backed by the law and its judges) where the betrayal of a whole country was and is still (as not sentenced) possible. "It is the presumption of innocence" is roughly the sentence which is the most used this year in articles about corruption in Austrian daily newspapers. (And even when the judgment will be pronounced after years - the accused ones have lived on luxurious level for a long time and on our costs. Perhaps they think that there is not so much difference between care home and prison for old people and prolong the lawsuit each half year once more.)
I love the Ferrero Rocher chocolate balls - 'Ball hin oder her' (means 'ball aside') such as the Austrians say.
Source: Original article with images on http://www.fashionoffice.org/culture/2012/opernball12-2012.htm.

more fashion.at/mobile>

News from
November 2012
October 2012
September 2012
August 2012
July 2012
June 2012
May 2012
April 2012
March 2012
February 2012
January 2012

subscribe
terms
imprint
(C) Sawetz, since 1996