Street-view of stars' fashion
In early September 2012, Fashionoffice received photos of Robert Pattinson in Palladium boots. Three weeks later, Palladium provides views on shoes from the label's current collection via Paparazzi pictures which show 'Sex and the City'-star Sarah Jessica Parker in yellow 'Pampa Oxford Lite' boots.
Through her 'Sex and the City' role as New York-based writer 'Carrie Bradshaw', the actress was rather associated with Manolo Blahniks than sportive footwear.
Fashion changes! Probably even the TV-series' (1998 - 2004) main character Carrie Bradshaw would be styled today after Sarah Jessica Parker's shoe fashion more often than with challenging high heels for daywear outfits. Since the 90ies and early 00ies the design of sportive shoes has changed and the range of models was extended from elegant sneakers over ingenious shoes with muscle-training soles to collectible limited art editions. Additionally, walking on the streets became fashionable in the last years - not only in photography for the presentation of collections.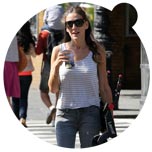 fig. original: Sarah Jessica Parker holding a Coconut water while walking on the street in New York City. Photo: Santi/Splash News. (C) www.splashnews.com.

fig. original: 'Pampa Oxford Lite' boots by Palladium.
Source: Original article with images on http://www.fashionoffice.org/collections/2012/palladium-parker9-2012.htm.

more fashion.at/mobile>

News from
September 2012
August 2012
July 2012
June 2012
May 2012
April 2012
March 2012
February 2012
January 2012

subscribe
terms
imprint
(C) Sawetz, since 1996