A film star's boots
In September 2012, Fashionoffice received photos showing 'Twilight' star Robert Pattinson in Palladium 'Pampa Hi' boots in stonewash/metal.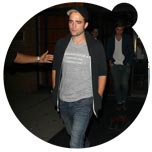 fig. original: Actor Robert Pattinson.
The French label Palladium stands for adventure and the exploration of unknown (new or forgotten) places and applies together with collaborating designers and labels like Richard Chai, Neil Barrett, Stussy, or Los Angeles based design studio 'Mister Freedom' new details and styles to the military boots which were developed for the French Foreign Legion in the 1940ies.
Palladium was founded in 1920 and produced in the beginning tires for the aviation industry. Since 1947, the Palladium boot's basic design hasn't changed. It was originally created for the French Government to supply the legendary French Foreign Legion that was mostly stationed in North Africa (Algeria, Morocco, Atlas Mountains). After its military usage, it was discovered for workwear and became later a fashion statement for adventure and exploration.

fig.: original: Palladium 'Pampa Hi' boots in stonewash/metal. The boots are available for men and women. Photo: Krause, Johansen.
Source: Original article with images on http://www.fashionoffice.org/collections/2012/palladium9-2012.htm.

more fashion.at/mobile>

News from
August 2012
July 2012
June 2012
May 2012
April 2012
March 2012
February 2012
January 2012

subscribe
terms
imprint
(C) Sawetz, since 1996