"You will never be in my blog"
...is written in black bold letters on the white t-shirt and means as much as "you will never become important in my life" or something more unpolite. Because who are the persons we name in our personal diaries or blogs to make them quasi 'immortal'? Mostly the ones we respect. Journalists don't have this choice.
The t-shirt is a creation by Guess. The Italian label was founded by Paul Marciano in 1981. Paul Marciano, CEO and Creative Director of Guess, stands behind the fashion collections and the campaigns such as this year's 30th anniversary video, directed and shot by photographer Ellen von Unwerth with Claudia Schiffer in the main role.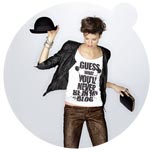 fig. original: For the upcoming campaign of the European department store chain Peek & Cloppenburg, testimonial Pau Bertolini wears the Guess t-shirt which carries the bold writing in combination with a jacket by Guess and metallic-jeans by Mavi.
Peek & Cloppenburg starts the campaign on 30 August 2012 with pictures from the keylooks for fall/winter 2012/13.
The images were shot by photographer Mario Schmolka in Munich (DE), styling by Margie Otte, make-up/hair by artist Richard Brockwell; creative direction/concept of the campaign Gisela Haase.
Source: Original article with image on http://www.fashionoffice.org/collections/2012/peekcloppenburg8-2012.htm.

more fashion.at/mobile>

News from
July 2012
June 2012
May 2012
April 2012
March 2012
February 2012
January 2012

subscribe
terms
imprint
(C) Sawetz, since 1996