Rock style
At the end of November 2012, Vienna headquartered European jewellery label Pierre Lang sent the catalogue of the current Fall/Winter 2012/13 collection with a matte gold-plated pendant in the form of a natural gold nugget with a drop-shaped crystal which is embedded into its middle. The poetic design of a tear in a heart of gold reminds of classical European fables à la Brothers Grimm.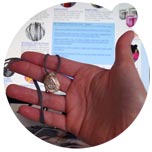 fig. original: The 'Nugget' - this is the name of the jewellery piece, is from the 'Glam-Rock' chapter of Pierre Lang's catalogue FW2012/13. The glam-rock pendants, rings, bracelets, etc are advised for denim outfits such as on the image below worn together with dark blue leather jacket and wide-brimmed hat.

Find the full catalogue with chapters like 'Parisian Chic' (where playfully designed pieces with couture appeal like the gold-plated knot-shaped ring are presented) or 'Modern Country' (which recalls the Gothic style of European castles with lily-shaped elements such as seen at a black bracelet, and items that makes think of signatures of aristocracy like rings with ancient woodcuts) on the website of Pierre Lang.
fig. original: Jewellery pieces by Pierre Lang styled with jeans, leather jacket and wide-brimmed hat; from the 'Glam-Rock' chapter of the label's Fall/Winter 2012/13 catalogue.
Source: Original article with images on http://www.fashionoffice.org/collections/2012/pierrelang11-2012.htm.

more fashion.at/mobile>

News from
November 2012
October 2012
September 2012
August 2012
July 2012
June 2012
May 2012
April 2012
March 2012
February 2012
January 2012

subscribe
terms
imprint
(C) Sawetz, since 1996