Musicians' work on new art video channel

On 6 November 2012, the new art channel MOCAtv (dedicated to educational views on various sciences, curated art videos, etc) by the Museum of Contemporary Art in Los Angeles published the MOCA-produced music video 'Those Who Live for Love Will Live Forever' by Prince Rama from the 10-tracks album 'Top Ten Hits of the End of the World' which was released on the same day via Paw Tracks.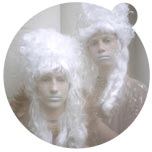 fig. original: I.M.M.O.R.T.A.L.I.F.E. channeled by Prince Rama. Photo: Samantha Casolari.
Brooklyn band Prince Rama are the sisters Taraka and Nimai Larson. The new album is a 'pseudo-compilation' which consists of 10 singles from fictional deceased pop bands. That's the reason why each of the tracks is 'channeled' by Prince Rama - such as connected with bands in outerspace or meta worlds or parallel universes. Their live shows are described as psychedelic ceremonies, performance art, and dancefloor initiation rites. In November, Prince Rama are on tour in Europe (UK, FR, BE, SE, DE, CH, AT...).
Video: The music video 'Those Who Live for Love Will Live Forever' was produced by the LA Museum of Contemporary Art and refers VHS tape with pictures that remember 1980s retro-scifi video game style. The video was directed by Julian Bozeman. Full credits.

Source: Original article with image and video on http://www.fashionoffice.org/culture/2012/princerama11-2012.htm.

more fashion.at/mobile>

News from
October 2012
September 2012
August 2012
July 2012
June 2012
May 2012
April 2012
March 2012
February 2012
January 2012

subscribe
terms
imprint
(C) Sawetz, since 1996