Fashion element: coat of arms
...seen at the Jamaica Olympic Team collection designed by Cedella Marley for the London Summer Games 2012. The collaborative collection between designer Cedella Marley (daughter of reggae legend Bob Marley) and sports label Puma was presented with the currently 'fastest man' of the world, athlete and three times Olympic gold medalist Usain Bolt on stage in London on 1st June 2012.
Cedella Marley incorporated into her designs signature details of the Caribbean state Jamaica (since 1962 politically independent from Britain, belongs to the British Commonwealth what means that Queen Elizabeth II is Queen of Jamaica) such as the coat of arms of Jamaica on the long-sleeve top on this page or the green weed print on the skirt which could be read as sign of the Rastafari religion/movement. Smoking weed belongs to the Rastafari spiritual act like incense in Christian churches does.

fig. original: Black top with green belt and print of the coat of arms of Jamaica. The print shows two Indians and the writing 'Out of Many, One People' which both stand for the unity of the state. Wide skirt with green weed on black. The pieces are from the Puma Olympic kit for Jamaica designed by Cedella Marley, in stores since June 2012.
The religion and movement Rastafari is derived from the Bible and incorporates the remembrance of the African heritage of the multi-cultural population in Jamaica. The central Rastafari themes freedom and equality were spread internationally by Cedella Marley's father Bob Marley through his reggae music like the famous song 'Rastaman Vibration'. In June, the documentary 'Marley' about the life of Bob Marley with interviews with his family like Cedella Marley comes into theatres in Italy, France, Spain, etc. Find the trailer for the documentary and release dates on imdb.com.
Since June 2012, Cedella Marley's collection is available in Puma stores and from 27 July to 12 August it can be viewed in sportive Olympic movement in London.

fig. original left: Usain Bolt dances up the catwalk with models in Puma Olympic outfits for Jamaica designed by Cedella Marley.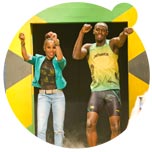 fig. right: Designer Cedella Marley and sprinter/3 times Olympic gold medalist Usain Bolt on the catwalk at the presentation of the Jamaica Olympic Team Collection by Puma on 1 June 2012 in London. Photos: (C) Ken_Lennox Photography.
Source: Original article with images on http://www.fashionoffice.org/collections/2012/puma6-2012.htm.

more fashion.at/mobile>

News from
June 2012
May 2012
April 2012
March 2012
February 2012
January 2012

subscribe
terms
imprint
(C) Sawetz, since 1996