Home fabrics inspired by clothes' fashion
In August 2012, the German furniture and home accessories label Rolf Benz presented new fabrics from the 'Freistil' line with abstract flower pattern. The wax prints are inspired by clothes' fashion.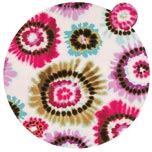 fig.: original: Fabric from the Freistil line by Rolf Benz.

fig.: original: One of the specials of Rolf Benz is the wide range of fabrics and leathers for furniture which follow the concept of 'free style' (in German 'Freistil') in the meaning of individual combinations such as the chair 'Freistil 187' (image right) is part of a family consisting of various sofas, benches and chairs. The image left shows the chair Freistil 184. The fabrics on this page are available for pillows too.
Freistil publishes an own magazine on freistil-rolfbenz.com (in German) with reports about the lifestyles of Berliner 'Freigeister' ('Free Spirits') and articles about culture (art, music, cuisine, etc) with tips what and where to eat, see, hear and go.
Source: Original article with images on http://www.fashionoffice.org/interior/2012/rolfbenz8-2012.htm.

more fashion.at/mobile>

News from
August 2012
July 2012
June 2012
May 2012
April 2012
March 2012
February 2012
January 2012

subscribe
terms
imprint
(C) Sawetz, since 1996