Men's wear inspired by sports at the Côte d'Azur
Currently, the Grand Prix de Monaco (24 to 27 May 2012) and the elegant and glamorous film festival in Cannes are strongly associated with this region.
Designer Michael Sieger (active in fashion, porcelain and sports car decor design) incorporated into the new spring/summer 2013 'Sieger' collection his travel experiences along the coast of the Mediterranean Sea. The colors of the region's nature, especially the water world from the view as passionate scuba diver, are spiced with the style of the Italian Riviera such as seen at the harbor of Portofino and the vivid lifestyle at the beaches of Ibiza: blues, intense turquoise, white of the foaming waves, sunny bright yellow and the beaches' beiges are mixed with pastel colors.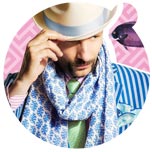 fig. original: Key-visual of the new spring/summer 2013 collection by Sieger. 'Aquarius' is the name of the new collection by the German label and references not only the geographical inspiration of the Mediterranean Sea, but also water sports. Sieger will present the men's wear collection with some accessories pieces for women at the Premium Men in Berlin (4 to 6 July 2012).
Source: Original article with image on http://www.fashionoffice.org/collections/2012/sieger5-2012.htm.

more fashion.at/mobile>

News from
May 2012
April 2012
March 2012
February 2012
January 2012

subscribe
terms
imprint
(C) Sawetz, since 1996