Outfit of the German Olympic team
On 24 April 2012 at the CCD Congress Center Düsseldorf Süd, the German Olympic athletes presented the new collection by shoe label Sioux for the outfits of the sports women and men (around 400 athletes) at this year's Summer Games from 27 July to 12 August 2012 in London. It's the 40th anniversary of Sioux' collaboration with German teams for Olympia.
fig. original (left to right): The German Olympians Benjamin Starke (swimming), Christina Schütze (hockey), Peter Joppich (fencing), Janne Müller-Wieland (hockey) are wearing the London Games 2012 shoes by Sioux on 24 April 2012 in Düsseldorf. The shoes (2 pairs for women, 2 pairs for men) are created for the opening and closing ceremonies and official side-events of the Olympic Games and fit to the clothing designed by Bogner. The limited edition of the shoe collection will be available in combination with a game for customers from May 2012 on. Photo: (C) Sioux.

(Find out more about the sport disciplines at the Olympic Summer Games 2012 on london2012.com/sport.)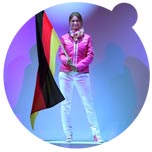 fig.: Catwalk impression from Düsseldorf with Britta Heidemann (fencing); the female athlete holds the German flag. Photo: (Sioux).
Source: Original article with images on http://www.fashionoffice.org/culture/2012/sioux-olympia4-2012.htm.

more fashion.at/mobile>

News from
April 2012
March 2012
February 2012
January 2012
December 2011
November 2011

subscribe
terms
imprint
(C) Sawetz, since 1996