The presentation of 'loud-nude'
...colors like rose shadows seen in October 2012 at the new campaign for the lounge and underwear Fall/Winter 2012/13 collection by the Austrian label Skiny.
28 years old Lizzy Jagger, daughter of Rolling Stones frontman Mick Jagger and supermodel Jerry Hall, is the new face of Skiny. In the campaign, she presents the pieces in train travelling sceneries. The rose shadows and purple ashes of the lounge fashion and 'Relax'-series are called by Skiny 'loud-nude' colors.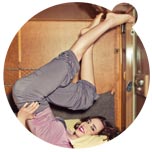 fig. original: Lizzy Jagger presents the 'loud-nude' colored loungewear FW2012/13 by Skiny in a sleeping compartment on a train while making exercises. The pieces are designed to be used for body trainings like Yoga courses or for couching at home.
fig. original: The image shows Lizzy Jagger on the railway tracks in soft floating 'Joggwear' by Skiny, FW2012/13. The 'Joggwear'-series is inspired by 1980ies' jogging styles and consists of wide jackets with hoodies, extra-long tank tops, and wide trousers. The long shirt with refined drapery in the front is colored in 'loud-nude' purple ash.
Source: Original article with images on http://www.fashionoffice.org/collections/2012/skiny10-2012.htm.

more fashion.at/mobile>

News from
September 2012
August 2012
July 2012
June 2012
May 2012
April 2012
March 2012
February 2012
January 2012

subscribe
terms
imprint
(C) Sawetz, since 1996