A woman who is working so that people get a job
...is the protagonist in the 'Get Your Boots Dirty'-campaign by the Canadian shoe label Sorel (belongs to Columbia Sportswear) for the current FW2012/13 collection.
The idea behind the campaign is to promote a lifestyle which is not only directed to the own profits but also the benefits of others - while being dressed stylish, of course.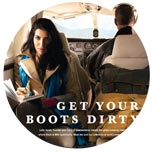 fig. original: Leila Janah is the first woman who appears in the 'Get Your Boots Dirty'-campaign by Sorel. Leila Janah is in short words a job creator via web-technology with the aim to break the cycle of poverty in countries like Ghana, Pakistan or India. During her education in Harvard and Stanford she focused on global justice and technology. In 2008, she founded the San Francisco headquartered social business Samasource - a company with social mission which brings new skills through computer trainings to people who have no money for education and acts as intermediary between clients and workers in fields like data services, research, etc. This year, Samasource received the Secretary's Innovation Award for the Empowerment of Women and Girls from Secretary of State Hillary Clinton.
Photo: (C) Sorel.
Video: In the Sorel 'Get Your Boots Dirty'-campaign, Leila Janah speaks about Samasource. On its YouTube channel, the label publishes insights into the making-of with statements by videographer Caleb Seppala, stylist Susan Winget, and photographer Tim Barber.
Source: Original article with image and video on http://www.fashionoffice.org/collections/2012/sorel10-2012.htm.

more fashion.at/mobile>

News from
September 2012
August 2012
July 2012
June 2012
May 2012
April 2012
March 2012
February 2012
January 2012

subscribe
terms
imprint
(C) Sawetz, since 1996