Fashionoffice cuisine tip:
Sweet and sour fruity, green coffee beans drinks

On 4 July 2012, Starbucks (Switzerland, Austria) launched the 'Refresha' beverage made from vitalizing green coffee beans (without tasting like coffee) and fruits in sweet and sour summer versions: 'Berry Hibiscus' (on the photo left) is the sweeter one and contains blend of hibiscus, berry concentrate, fresh blackberries, ice and the extract from green Arabica coffee beans, while 'Cool Lime' is sourer as it is a combination of ice, green coffee beans with lime and lime-concentrate.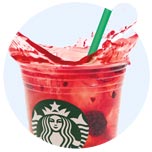 Photos original: (C) Starbucks Coffee Austria GmbH / (C) Ryan Matthew Smith/Sublime Management. All rights reserved.
Source: Original article with images on http://www.fashionoffice.org/cuisine/2012/starbucks7-2012.htm.

more fashion.at/mobile>

News from
June 2012
May 2012
April 2012
March 2012
February 2012
January 2012

subscribe
terms
imprint
(C) Sawetz, since 1996