The city where movements become lifestyle
In October 2012, Fashionoffice threw a closer look at the interiors of shoe stores in Vienna, especially the one of Stiefelkönig at the Mariahilferstrasse.
In this city, movements become lifestyle! The 'sports movement' influences not only the citizens of Vienna for sportive leisure time activities and their taste for high-tech shoes; the 'sports movement' inspired also the architects' construction of the publicly accessible space of the store at the lifestyle shoes division.

The flagship store is the first of the Austrian retail chain in new design. It premiered in late September 2012. Stiefelkönig is known as the 'House of Brands' (Guess, CK, Tommy Hilfiger, DKNY, Geox, Pepe, Boss...). The store at the Mariahilferstrasse 83 presents on 460 square metres more than 20.000 pairs of shoes for women, men, and kids.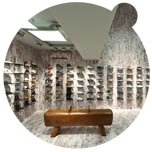 fig. original: Insight into the 'lifestyle' division at Stiefelkönig in Vienna
The sports footwear models are arranged on the walls in front of a dynamic pattern which covers also the floor. The shoes are almost hovering before the walls made of parquet floor. The pattern looks like the asphalt and bricks under the feet of a runner - a very fast runner, always ready for street parkour. (Watch the movie by 'APEX Movement' for an impression of 'Parkour & Freerunning'.)
In the middle of the lifestyle shoe division, the Stiefelkönig interior design team placed a bench in artistic gymnastics (pommel horse) style.
Photo: (C) Stiefelkönig.
fig.: The pictures below provide insights into the women, men, and kids divisions. Photos: (C) Stiefelkönig.
Source: Original article with images on http://www.fashionoffice.org/interior/2012/stiefelkoenig10-2012.htm.

more fashion.at/mobile>

News from
September 2012
August 2012
July 2012
June 2012
May 2012
April 2012
March 2012
February 2012
January 2012

subscribe
terms
imprint
(C) Sawetz, since 1996