The style of a musician, jewellery and city events

From 27 August to 30 September 2012, Swarovski publishes on the website kingdomofjewels.com the new Fall/Winter 2012/13 collection 'Kingdom of Jewels' together with views behind the scene and event calendars from cities all over the world. The city event calendars are filled with information by local trendsetter. Visitors will have the chance to win personal invitations to music, fashion, culture and night life events.
The Swarovski online campaign spans over around 15 metropolitan cities like London, New York, Paris, Berlin, Melbourne, Seoul, Shanghai, to name a few and offers website visitors entrance to exclusive events. In selected cities, Swarovski organizes a sort of interactive treasure hunt in the label's own (offline-)shops: a limited number of 'jewels' are prepared for interactive website usage. In each of these crystals the name of the city and a special code are engraved which enable the crystal owner to decrypt on the website kingdomofjewels.com the personal invitation to events.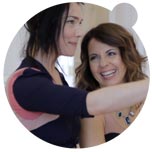 fig. original: Muse of the 'Kingdom of Jewels' collection FW2012/13 Brisa Roché and Nathalie Colin, Creative Director Swarovski.
Video: Nathalie Colin, Creative Director Swarovski, introduces into the 'Kingdom of Jewels' campaign and collection Fall/Winter 2012/13. Muse of the collection is musician, painter, and fashion creator Brisa Roché (born in California, currently living in Paris).
The introduction by Natalie Colin is the first of a series of three films which accompany the 'Kingdom of Jewels' campaign. The second film shows Brisa Roché whose style was inspiring for Nathalie Colin. The video is published on vimeo.com. The third film isn't unveiled yet (1st August 2012),
Source: Original article with image and video on http://www.fashionoffice.org/culture/2012/swarovski8-2012.htm.

more fashion.at/mobile>

News from
July 2012
June 2012
May 2012
April 2012
March 2012
February 2012
January 2012

subscribe
terms
imprint
(C) Sawetz, since 1996