Watches by athletes from board and motor sports
In April 2012, the Swiss watch and jewellery brand Swatch presented the new Sports Collection with six time pieces (model 'New Gent') designed by athletes of the Swatch Proteam from the disciplines surfing, snowboarding and freestyle motocross.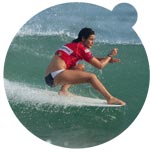 fig. original left: California based surfer Kassia Meador (born 1982) is additionally artist, photographer and wetsuit designer. Her watch shows color-images of action-scenes with a touch of super-8mm aesthetics. The effect was produced by taking photographs and then re-printed from classic surfing films. The 'New Gent' watch in 'Wonder Inspiration' design is covered with this print across the dial and all over the silicone strap.

Kassia Meador about her design: "With my watch I wanted to fuse my love of surfing and photography. I chose film as my medium - shooting fragments of moments from my most favourite and iconic surf films, wrapping the watch with the film strip, so those fragments and moments would be frozen forever in time!"
fig. right: The Highest Air world record holder (11 meters) Swiss Moto-X Freestyler Mat Rebeaud (born 1982) won the FIM World Championship for FMX in 2005/FMX Night of the Jumps Tour, in 2008 the Red Bull X-Fighters World Tour Championship and in the same year the Silver Medal at X Games 14; he owns a skate shop in Switzerland and has no driving licence for 'normal' motorcycles.
Mat Rebeaud created a bold 'Wonder Zebra' black and orange striped print: "The watch design is in relation to my own FMX bike. The colours of orange and black are the same ones on my bike. I like this mix between a fun and aggressive style, so my bike - and the watch - is designed in that same spirit."
Source: Original article with images on http://www.fashionoffice.org/collections/2012/swatch5-2012.htm.

more fashion.at/mobile>

News from
April 2012
March 2012
February 2012
January 2012
December 2011
November 2011

subscribe
terms
imprint
(C) Sawetz, since 1996