Musician inspired by revolutionary females

'Body of Work' with gospel tone by Laura Burhenn is the new track from the album 'Generals' by The Mynabirds (release on 5 June 2012 on Saddle Creek; video trailer below). Laura Burhenn explains that the track represents our ability to constantly remodel our lives into anything we want, regardless of what the past holds; "we are living things, bodies of work to edit."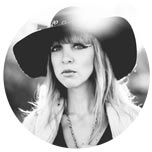 fig. original: Laura Burhenn, The Mynabirds. Photo: DP Muller.
The album 'Generals' was created as a protest album, against political frustration, for revolutionary ways and pacifist living. The name 'Generals' is inspired by Richard Avedon's photo 'Generals of the Daughters of the American Revolution'.
Looking at the portrait of women in their pristine satin gowns, Burhenn considered her own supposed eligibility to be a member of DAR and thought about what true revolutionary American women look like. The lineage of women that have stood up to injustice for well over a hundred years – women like Sojourner Truth, Rosa Parks, Gloria Steinem, Naomi Wolf – they get their hands dirty. And Burhenn wanted to pay tribute to that.
In conjunction with the album, Burhenn is launching a portrait project called 'The New Revolutionists' on thenewrevolutionists.org. Laura Burhenn wanted to shine a light on women who make a difference.
Musically you can hear echoes of early PJ Harvey, politically-charged Nina Simone and Low-era David Bowie. It gets down and hip hop dirty, flirts with African melodies and rhythms, goes four-on-the-floor for all out dance jams and has plenty of percussion.
Lyrically, 'Generals' sings the voice of the collective frustration, then moves beyond that. "It was important for me that this record made sense of my own anger and turned it into positive energy," Burhenn says. "I needed it to be transformative – of both the individual and the body politic. It's as much a meditation on Walt Whitman's hope for America as Gandhi's directive to 'be the change you want to see in the world.'"

Free music download of 'Body of Work' on girlieaction.com.
Video: Trailer for the new album 'Generals' (5 June 2012 on Saddle Creek) by The Mynabirds with the songs 'Body of Work', 'Generals', ' Disarm', ' Mightier than the Sword'.
Source: Original article with image and video on http://www.fashionoffice.org/culture/2012/themynabirds5-2012.htm.

more fashion.at/mobile>

News from
May 2012
April 2012
March 2012
February 2012
January 2012

subscribe
terms
imprint
(C) Sawetz, since 1996