Light and healthy summer recipes
In April 2012, Chef de Cuisine Paul Ivic of the Viennese restaurant Tian presents some creations under the title 'Heavenly Light Cuisine' for summer such as strawberry salad with cheese and spelt spaghetti with peperonata.
Paul Ivic has selected the ingredients under the aspects health and beauty - such as strawberry (known as 'slimming fruit') and spelt which strengthens not only skin, hair, and nails - it shall strengthen the mind too. So well, let's eat!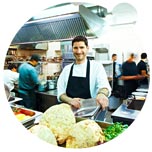 fig. original: Paul Ivic, Chef de Cuisine at the restaurant, café, club bar, and take-away market Tian in Vienna, 2012. Photo: (C) Michael Stelzhammer.

fig. original: Strawberry salad with cheese. fig. original: Spelt spaghetti with peperonata (right). Photos: (C) Jürgen Hammerschmid.
Fashionoffice has translated the two recipes (find below the original German versions):
Strawberry salad with fresh goat cheese
400 g strawberries (it is advised to use fruits from the region)
2 tablespoons organic honey acacia
25 g pine nuts lightly toasted
Picandau 25 g (fresh goat cheese), diced
Juice of 1 lime
2 cl of olive oil (extra virgin)
½ bourbon vanilla bean
5 leaves fresh basil
20 g Frisee salad
20 g Mesclan salad (or Rucula salad)
Sea salt and freshly ground Assam pepper (long)

Cut the strawberries into thin slices and marinate them with honey, lime juice, olive oil and few sea salt and pepper.
Add the remaining ingredients such as lemon fillets, pine nuts, finely chopped Frisee salad, Meslcan salad and basil to the marinated strawberries. Depending on the sweetness of the strawberries, add acid from lime or sweeten the strawberry salad with honey.
Arrange the Picandeau pieces and enjoy the salad.
Spelt spaghetti with peperonata
4 pieces of 2 red bell pepper and 2 yellow bell peppers, remove the seeds and partitions
50 g shallots, peeled and thinly sliced
1 clove garlic, finely chopped
2 tablespoons balsamic vinegar (Paul Ivic uses the balsamic vinegar 'J' by the Austrian label Gegenbauer)
40 g freshly grated Parmesan cheese
10 g heaped Crème fraîche
5 pieces sun-ripened organic tomatoes
3 g of fresh thyme
3 g of fresh rosemary
3 g of fresh parsley
50 g Taggischa olives (pitted)
Sea salt and freshly ground pepper
Remove from three tomatoes the core and then cut the tomatoes in 5 mm cubes. Mix the core and the rest of the tomatoes to a juice.
Chop the rosemary and the thyme and fry them together with the finely chopped garlic and shallots in few olive oil. Add the bell peppers, the tomato juice, salt, pepper and let it simmer in a closed pan around 10 minutes over medium heat until the vegetable is soft. (Slow braising is important for the development of the bell peppers' flavor.) While stirring the sauce, pour the vinegar; then the Parmesan and Crème fraîche.
Let it simmer on low heat while preparing the spelt spaghetti. (Cook the pasta in a large pot of salted water until it is al dente.)
Mix the spelt noodles with peperonata, the diced tomatoes, a dash of virgin olive oil and add the chopped parsley. Strew the remaining Parmesan over it and serve it immediately.
Original recipes by Paul Ivic (in German language):

Salat von Erdbeeren mit Ziegenfrischkäse
400 g Erdbeeren (unbedingt aus der Region)
2 EL Akazien Bio Honig
25 g Pinienkerne leicht geröstet
25 g Picandau (Ziegenfrischkäse) gewürfelt
Saft von 1 Limette
2 cl Olivenöl (extra Vergine)
½ Bourbon Vanilleschote
5 Blätter frischen Basilikum
20 g Friseesalat
20 g Mesclan Salat alternativ Rucula
Meersalz & Assam Langpfeffer aus der Mühle
Schneiden Sie die Erdbeeren in kleine Spalten und marinieren Sie diese mit dem Honig, Saft von einer Limette dem Olivenöl und ein wenig Meersalz sowie Pfeffer. Nachdem die Erdbeeren mariniert wurden fügen wir die restlichen Zutaten wie Limettenfilets, Pinienkerne, Frisee den Meslcan und fein geschnittenen Basilikum hinzu. Je nach Süße Grat der Erdbeeren können wir noch etwas Säure von der Limette beimengen oder mit etwas Honig nachsüßen.
Auf den Angerichteten Salat noch die Picandeau Stücke verteilen und genießen.

Dinkelspaghetti mit Peperonata
4 Stk Paprika je 2 rote und 2 gelbe Paprikaschoten, Samen und Scheidewände entfernt
50 g Schalotten, geschält und in dünne Scheiben geschnitten
1 Knoblauchzehe fein geschnitten
2 EL Gegenbauer Essig Balsam J
40 g frisch geriebener Parmesan
10 g gehäufte Crème fraîche
5 Stk sonnengereifte Bio Tomaten
3 g frischen Thymian
3 g frischen Rosmarin
3 g frische Petersilie
50 g Taggischa Oliven (entkernt)
Meersalz, Pfeffer aus der Mühle

Entfernen Sie von drei Tomaten das Kerngehäuse und schneiden Sie anschließend die Tomatenspalten in fünf mm große Würfel. Das übrig gebliebene Kerngehäuse mit den restlichen Tomaten kurz mixen und passieren.
In der Zwischenzeit den Rosmarin und den Thymian fein hacken und zusammen mit dem fein geschnittenen Knoblauch sowie den fein gewürfelten Schalotten in wenig Olivenöl anschwitzen. Die Paprikaschoten mit dem Saft der Tomaten hinzufügen und mit Salz und Pfeffer in eine große Pfanne mit einem Deckel verschließen und etwa 10 Minuten bei mittlerer Hitze langsam weich dünsten. Das langsame Dünsten ist ganz wichtig, nur so entfalten die Schoten ihr volles Aroma. Den Essig dazu gießen und rühren. Den Parmesan und die Crème fraïche einrühren und bei niedrigster Hitze weiterköcheln lassen, während Sie die Pasta kochen.
In einem großen Topf Salzwasser sprudelnd zum Kochen bringen und die Nudeln darin nach der Packungsanweisung al dente kochen – Abseihen.
Mit der Peperonata und den Tomatenwürfeln vermengen und einen guten Schuss Natives Olivenöl und die geschnittene Blattpetersilie zufügen. Den restlichen Parmesan darüber streuen und sofort servieren.
Source: Original article with images on http://www.fashionoffice.org/cuisine/2012/tian4-2012.htm.

more fashion.at/mobile>

News from
March 2012
February 2012
January 2012
December 2011
November 2011

subscribe
terms
imprint
(C) Sawetz, since 1996